5 Useful Apps to Recover A Lost Or Stolen iPhone
Back in the days when you lose the standard mobile phone, the loss is limited to just the hardware. The new owner would probably just remove your SIM card and put in his or her own and no one would be the wiser. But with smartphones, this situation presents a larger set of problems.
For starters, you will lose all your precious data: music, photos, apps and contacts. Getting a new phone would mean you have to start recollecting all these items from scratch. If hearing that gives you a headache, let me remind you that the person who has located your iPhone will also have access to all your online accounts: social networking sites like Facebook and Twitter, personal emails — and if you are one of the many people who do their banking online, better change those passwords quick. In any case, identity theft has been made easier these days since your smartphone now carries your online identity.
While it is almost impossible to prevent you from dropping or misplacing your iPhone, it is possible to reduce the effects (and pain) of losing your iPhone and the contents within forever. Here are 10 useful apps (3 of them with step-by-step guides on how to use them) which can help you turn the tables in the event of your iPhone going MIA.
1. Find My iPhone
Find My iPhone app allows you to use another iOS device to locate your missing iPhone on a map, protect your private data, display a message, play a sound at full volume (for few minutes) even if your missing iPhone was set to silent, and remotely lock your device. [Free]
To Use Find My iPhone Before iPhone is Lost or Stolen
Upgrade your iPhone to iOS 5 or above.

Register an iCloud account (Apple ID).

Install Find My iPhone app.

Turn on Find My iPhone by tapping Settings > iCloud > Find My iPhone. Tap Allow to confirm this option.
Locate Missing iPhone with Find My iPhone:
As long as your Find My iPhone is turned on on the lost/stolen iPhone AND it's connected to the Internet, you will be able to find your iPhone's current location.
Sign in your iCloud account using Apple ID.

Click on the Find My iPhone button.

Choose Locate an iPhone device if you have set up more than one iOS device.

Your lost/stolen iPhone's location will show on the map if your device is online.

If your iPhone is offline, you can set an option to receive an email whenever your iPhone is connected to the Internet.
2. GadgetTrak
GadgetTrak app increases your chances of recovering your lost or stolen iPhone by generating location reports, sending a discreet message to your device, and snapping a photo of the thief with the built-in camera. With its restriction on "Deleting Apps", the thief will not be able to delete GadgetTrak from your iPhone. [$3.99]
Install GadgetTrak Before the iPhone is Lost or Stolen
Purchase and install GadgetTrak.

Tap the GadgetTrak application icon on your iPhone to launch the app.

Create an account and sign in.

Set a passcode for GadgetTrak to prevent others from changing your settings or seeing the tracking status.
Recovering Lost/Stolen iPhone with GadgetTrak
Visit http://trak.me to enable tracking.

Select your device to log in.

Once logged in, you'll see your iPhone plotted on the map.

Click the "View" button then select "Tracking Reports" on the top.

The Camera allows you to snap a photo with a one-time fee of $0.99.
3. Device Locator
Device Locator allows you to track the location of your misplaced iPhone, sound an alarm on your lost or stolen iPhone, take a photo of the user remotely and send a message with sound. There's no monthly or yearly fees involved. [$3.99]
Use Device Locator Before the iPhone is Lost or Stolen
Purchase and install Device Locator.

Launch the app by tapping the icon.

Create an account in https://device-locator.com.

Customize the settings in your iPhone.
LoJack Your Stolen or Lost iPhone with Device Locator
Visit https://device-locator.com and login to your account.

Set it to emergency mode and lock the application from the web application.

Track your iPhone's recent location history, including the most recent position on a map.
4. IHound
iHound helps locate and keep your iPhone safe with remote locking, remote data erasing, location tracking and siren alerts playing. It's a free download but users are required to subscribe at least 3 months which costs $3.99. [$3.99/3 Months]
5. If Found+
If Found+ replaces your iPhone background wallpaper with a message if you have lost your iPhone. Even if your iPhone is locked with a passcode, a good Samaritan can reach you if he/she finds your phone. [$0.99]
Source from: http://www.hongkiat.com/blog/apps-to-recover-stolen-lost-iphone/
What's More
If you need something besides Apps, for example, recovery software that could be installed on your computer, you may simiply refer to iPhone Data Recovery Professional to recover your lost or stolen iPhone in a second.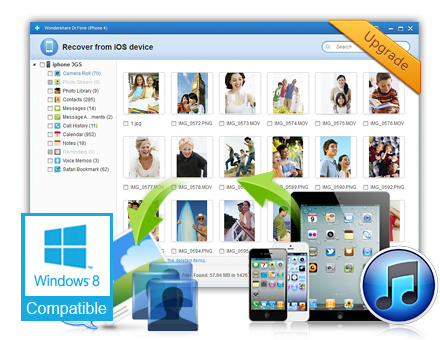 Share this post
To be informed of the latest articles, subscribe: