How to Recover Deleted Photos from iPhone
Lost Photos from Your iPhone?
Since "more photos are taken with the iPhone", more photos are accidentally deleted on iPhones too. For people who are currently using iPhone as their primary camera, making backup of those pictures taken by iPhone should undoubtedly be listed on their daily routine. Because the photos on iPhone can be easily lost or deleted due to various causes: tapping the wrong button, dropping iPhone in toilet and much more cases as you can imagine. That is terrible because if that happens, it could somehow mean you just at the risk of ruining all your beautiful memories by yourself.

**Read on for the solutions to recover lost iPhone photos with the tricks made by some specific data recovery software (see below) and some useful tips for you to prevent losing those pictures again on iPhone in the future.
Manually Backup iPhone Photos to Your Computer
The easiest way to save your iPhone photos is to use computer. With this method, all you need to do is plug your iPhone into your computer. And use iPhoto or Image Capture on a Mac, or Photos or Windows Photo Viewer on a Windows PC to import selective photos and then delete them off your iPhone to free up space on it.
Automatically Backup to iCloud
Another option for you to back up iPhone pictures is to use Apple's own iCloud storage system. This will be ideal if you don't want to take up space on your iPhone. What you need to do is sign into iCloud with your Apple ID to enable iCloud backups. Once enabled, you can manage which items you want included in your iCloud backup, and turn on your Camera Roll.

With iCloud enabled, all images taken with your iPhone will automatically be uploaded to your iCloud account. Your free account comes with 5GB of free storage with the option of upgrading to as much as 50GB for 100 bucks a year. With this backup method, you can easily recover all those pictures with iCloud even if the photos on your iPhone were deleted or lost by mistake.
Is It Possible to Get Back Deleted Photos from iPhone?
However, if you lost photos on iPhone before you had a chance to use any of those methods mentioned above to make a backup for those pictures, it is still possible to get them back with some options provided below.
Please note
these options are for iPhone users who deleted photos that were ONLY saved on iPhone and not backed up anywhere else.
Recover Deleted Photos with iPhone Backup Extractor
iPhone Backup Extractor is able to recover lost or deleted photos by extracting iTunes' built-in backup files. Why is that? Let's get deep into this problem now. Each time you sync your iPhone to iTunes, it will generate an automatic backup file in the format of .sqlitedb which can't be accessed and read by you. With this backup extractor, you can select the data you wish to extract from iTunes. After that, the photos will be exported to destination you selected and you can then add those photos back onto your iPhone.
Recover Lost Photos with iPhone Data Recovery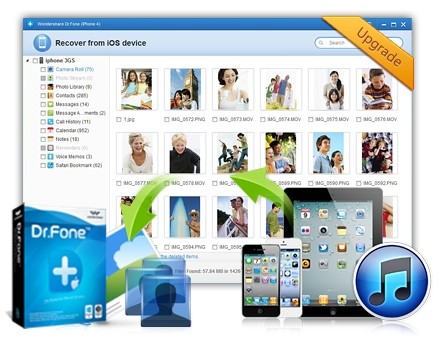 iPhone Data Recovery, also known as iPhone Photo Recovery, is available in both Mac and Windows editions, experts in recovering lost photos, videos, contacts, bookmarks, App documents, notes, and much more in a total of 18 types from iPhone due to different data loss causes, such as wrong deletion, update error, device loss, etc. It provides 3 reliable recovery modes to restore lost pictures from iPhone devices directly, iTunes backup or from iCloud backup.
More Words for You
Somehow, purchasing expensive data recovery software like this is a last resort method especially if you're concerned about the integrity of the recovery software. But it deserves if the deleted photos on your iPhone are really important to you. Something, especially those beautiful moments in our life are just priceless.
Ok, last but not least, I guess you don't want to inadvertently download malware, so make sure it's a trusted program before diving in.
Join the Discussion
Have you tried any of these methods to recover your lost photos? Do you know any other methods to retrieve deleted iPhone photos we missed here? Let us know in the comments section.
Related Topics:
Share this post
To be informed of the latest articles, subscribe: